Green Man announces
"A New World Religion"
The Original Tradition of the Universal Cosmic Mother
Mission
Healing the Planet
Visiting Teacher Program


Agenda World Tour2014/15
(Key page)"Origin"
My Teaching with


24 Source Books, including 24 pdf-versions
with links to all writings


How do I give up my ego?
Meeting Green Man
Autobiography
Sayings


MeiMei is joining!
2013 The Oracle
Contact us
See also

"Green University"
Training Programme
Green Men & Wise Women
Transformatorium


Join his Wilderness Training 2013/14
Our Studio
www.youtube.com/
healingtheplanet
Webcam Live Broadcasts
Online-Teaching/Webinar
Radio-interview (19.8.2012) with Rinus van Warven (in Dutch)

Intercultural Exchange
Cosmic Mother
She Is Everywhere!
Among others
Fectio/Anatolia/India/China/
Java/Dayak

Hawaii
See also: "Green Men & Wise Women Pilgrim Network"
Newsletter


HanMariepedia
the spiritual encyclopedia


Teaching Interview "HOUR OF TRUTH"
Excursion
To our Picture Galleries
Spiritual poetry
Omni-verses
Not all books/essays have been translated into English yet.
Help is urgently needed.


Click:
NEXT PAGE
Overview of the entire website!
In these most critical of times
WORLDWIDE MISSION
Cosmic Mother
HEALING the PLANET
Healing yourself, Healing each other, Healing the world

TO ALL
Men and Women who long for a new
HEAVEN, EARTH and a (NEW) COMMUNITY
CultureRenewalMovement
(Eco-Spiritual, Cosmo-Political)
I WELCOME YOU!
We are part of the Earth
The Earth is part of the Universe
The Universe is part of the Divine
The Divine is part of the Cosmic Mother
Hey, stand up, we are going to save the planet!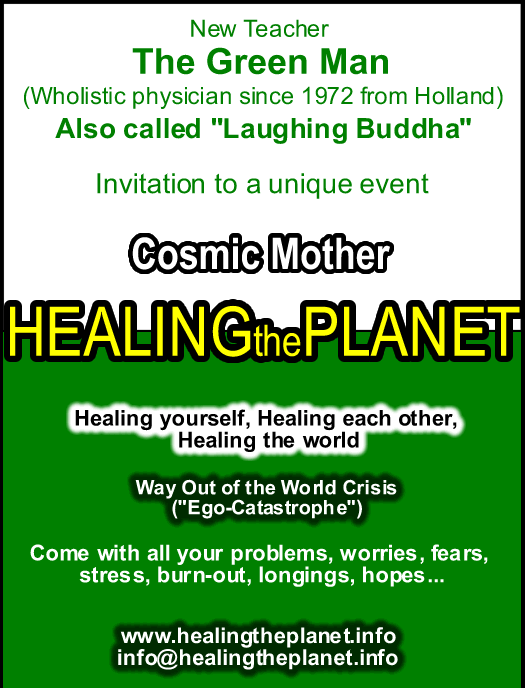 The core problem:
Ego alienated from the Whole,
blowing itself up, eventually destroying the entire globe
Only New Men/Women can create A New World!
The Way Out:
To give up your ego in order to become reborn. With your True Self you become part of the Whole - Heaven, Earth and the (New) Community - once again.....
"Stirb und Werde!" (J.W.Goethe)
.....committing yourself to "Healing the Planet", consisting of Spiritual Service, Earth Service, Community Service and Health Service.
Once you dedicate yourself to the Whole, the Whole
will dedicate itself to you!
"Green Men" & "Wise Women" are the New Hopefuls, the Leaders who are taking the initiative in creating a New World
Unless there is a spiritual Renaissance, the world will
know no peace! (Dag HammarskjŲld)
Our main training institutions are the "Transformatorium" with its three months' (SS, ES,CS,HS) curriculum and the "Healing Communities", new style "monasteries", based on three pillars: to surrender to the Ultimate, to re-integrate your life, while serving others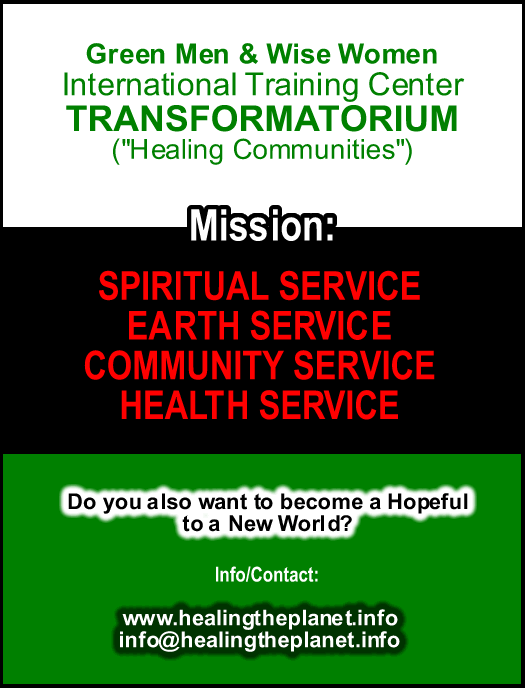 SPIRITUAL SERVICE
Based on the Cosmic Mother as the only one who can curb/transform the ego, together with Her manifestations: the Green Men & Wise Women"
Study material e.g.:
Spiritual Service: Click "Interview"
"My Vision: Book of Renewal"
"The Original Tradition of the Universal Cosmic Mother"
"Mother for Mothers"
"European Green Men & Wise Women Pilgrim Network"
"The New Covenant"
"Great Mother Buddhism"
"Reborn Order"
Click & Search titels in: SourceBooks
EARTH SERVICE
Based on Eco-Spirituality, including promoting sacred groves, nature conservation, permaculture, organic agriculture, vegetarianism/veganism and sustainable energy.
Study material e.g.:
Earth Service: Click "Interview"
"Rooted in Heaven and Earth"
"Principles of Earth Service"
(formerly "Earth Care")
"To Restore the Wholeness of Life"
"Sacred Heritage"
"Sanctifying Nature"
"Earth Ceremony"
"Omni-Verses"
Click & Search titels in: SourceBooks
COMMUNITY SERVICE
Based on "As above, so below" and the principle of subsidiarity. It is focussing on A New Society ("Community Democracy"), A New Economy ("Economy of Balance"), New Gender relationships and A New Education.
Study material e.g.:
Community Service: Click "Interview"
"My Vision: Book of Renewal"
"The Self-Sovereign Society"
"Sociocracy" (Kees Boeke)
"De Zijnsrevolutie"
"The Mosuo-Model"
"MatriTalks"
Click & Search titels in: SourceBooks
HEALTH SERVICE
Based on A New Health Care, consisting of three bottom-up echolons of Self-Help, Holistic and Technological Medicine. Emphasis is laid on the "Integral (Wo)Man, the unity of spirit, mind/"soul" and body in the context of cosmos and nature".
Study material e.g.
Health Service: Click "Interview"
See: www.vitalworld.org
based on natural, integral,
evolutionary medicine,
with special emphasis on the
"post-antibiotic era".
Furthermore, click www.meihan-guasha.nl
and www.guasha-integraletherapie.nl
with their unique "Integral Guasha
Therapy East-West"
Click & Search titels in: SourceBooks
CAREER OPPORTUNITIES
Through our main training you become a spiritual guide, a Guasha healer, a community leader and an earth caretaker.
Study material e.g.
The International Training Center
"Transformatorium"
"Healing Communities"
Click & Search titels in: SourceBooks
REQUIREMENTS
Your have a balanced character:
sincere, honest, responsible, unselfish, respectful, compassionate.
Addictions of all kinds:
ego, power, money, ideologies, drugs, smoking and alcohol are contra-indications
You should have had some trials in your life, where you have proved to possess these qualities.
Study material e.g.
The International Training Center
"Transformatorium"
"Healing Communities"
Click & Search titels in: SourceBooks
PROCEDURE
There are two choices: to become a friend or a junior. The former does not aspire a career, but wishes to support our initiative in all kinds of ways.
The latter applies to the training, aiming at committing him or herself as a Green Man or Wise Women.
Apart from that, everybody who dedicates him/herself to the Cosmic Mother as the Origin of all are called "Originals"
Do you long for a life-long spiritual "career?" In that case you may be interested in becoming a "Reborn"
Info:
Contact us
Han Marie Stiekema
Universal Teacher
Servant/Messenger ("Sermes")
Laughing Buddha
Green Man
has made himself known to the world
His worldwide mission
Cosmic Mother Healing the Planet
Viele Texte sind nur in Deutsch geschrieben worden,
also klicken Sie also immer "Deutsch"
De Nederlandse versie is helaas zwaar achterop geraakt.
Voor een goed overzicht beter Duits of Engels lezen
We are not responsible for the content of external links.
The texts of this website were granted to me "by the Cosmos". They therefore are the Heritage of the Whole of Mankind. Everybody can thus freely read. study and download them. It means also, that against those who try to use these ideas, concepts and texts for their own personal gain e.g. benefit through copying them in dissertations, books, essays, blogs or websites legal action will be undertaken. No-one can claim, copy or derive any text, rights,
position or status from this website.
WWe have noticed that several people copied this website AS A WHOLE. Please,
understand that use for personal gain and profit is not allowed.
Thanks..
1997-2013 © Copyright Han Marie Stiekema. All rights reserved.
Last revising: 12/10/13