PilgrimCare
Our expertise made available to pilgrims everywhere"

Pilgrim
on
The Integral Way"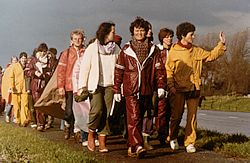 THE GREAT LEARNING
Summerschool 2004 in Estella, Northern Spain
From May to September in the Calle Rua, next to the Pilgrim Inn

Unique combination: to be pilgrim (on the "Integral Way") (including a daily program, see below), while simultaneously helping other pilgrims (on
the Camino to Compostela). For making a new start, deepening
your life, in case you are burnt-out, longing for being in
harmony with "heaven and earth", meeting interesting
people etc. Also in case you would like to do a
retreat before walking the Camino.

This is our afternoon and evening program:

PilgrimCare

* Heaven & Earth Exercises
Tiendi Qigong/Meditation/Sanctifying nature
Every day 5 pm in the park next to the river
* Energy Studio
With Chinese Guasha Therapy
Treatment of stiffness and pain (3.30-5 pm)
* Q & A Session
For your spiritual questions
Every day 7 pm (English/German/Dutch)
* Praying for the World
"Mother of God, have Mercy upon us"
Visit our Black Mother

OUR PROGRAM AFTER THE CAMINO
For inspiration at home
* A New Spirituality
* A New Health Care
* A New Community
TAKE OUR INFO WITH YOU

For further internet correspondence:
hmsunlimited@yahoo.com

In case you are interested in Lectures, Weekend
Trainings, Retreats or Personal Guidance, see:
www.the-great-learning.com
"Events", "Newsletter"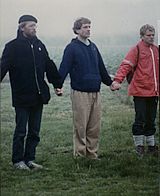 We thus treat pilgrims with accidents, pain, stiffness and fatigue through Chinese guasha therapy, meet e.g. have talks with those who need it, doing meditation together, in short are available to the most interesting group of people of modern times, everyone according to his/her gifts/talents and possibilities. Subscribe as soon as you can, in order to give us time to prepare ourselves! Especially recommended is to travel to N.Spain, to prepare yourself, f.e. a
couple of days to one week, in our School of Living, while subsequently
walking the CAMINO. Our address over there will be announced in short notice. Every summer we are on the spot (N.Spain), while in winter we will be doing teaching/meditation/satsang/retreats in Europe, the US and Goa (India), together with our guasha courses*. * By MeiMei, guasha teacher and therapist from China: www.guasha.8m.com PilgrimCare
Optimal preparation, advice and guidance on
your route to Compostela

See more details of The Integral Way:
www.the-great-learning.com
Click "The Integral Way"

Open the Pilgrim Manuals (1 & 2) for an additional
wealth of information.


(Back to the start of Han Marie Stiekema's website)
1997-2004 © Copyright Han Marie Stiekema. All rights reserved.
Everyone may use this website as a source of inspiration. However, since it
is freely given, no-one can claim, copy or derive any text, rights,
position or status from this website.
Last revising: 11/11/13